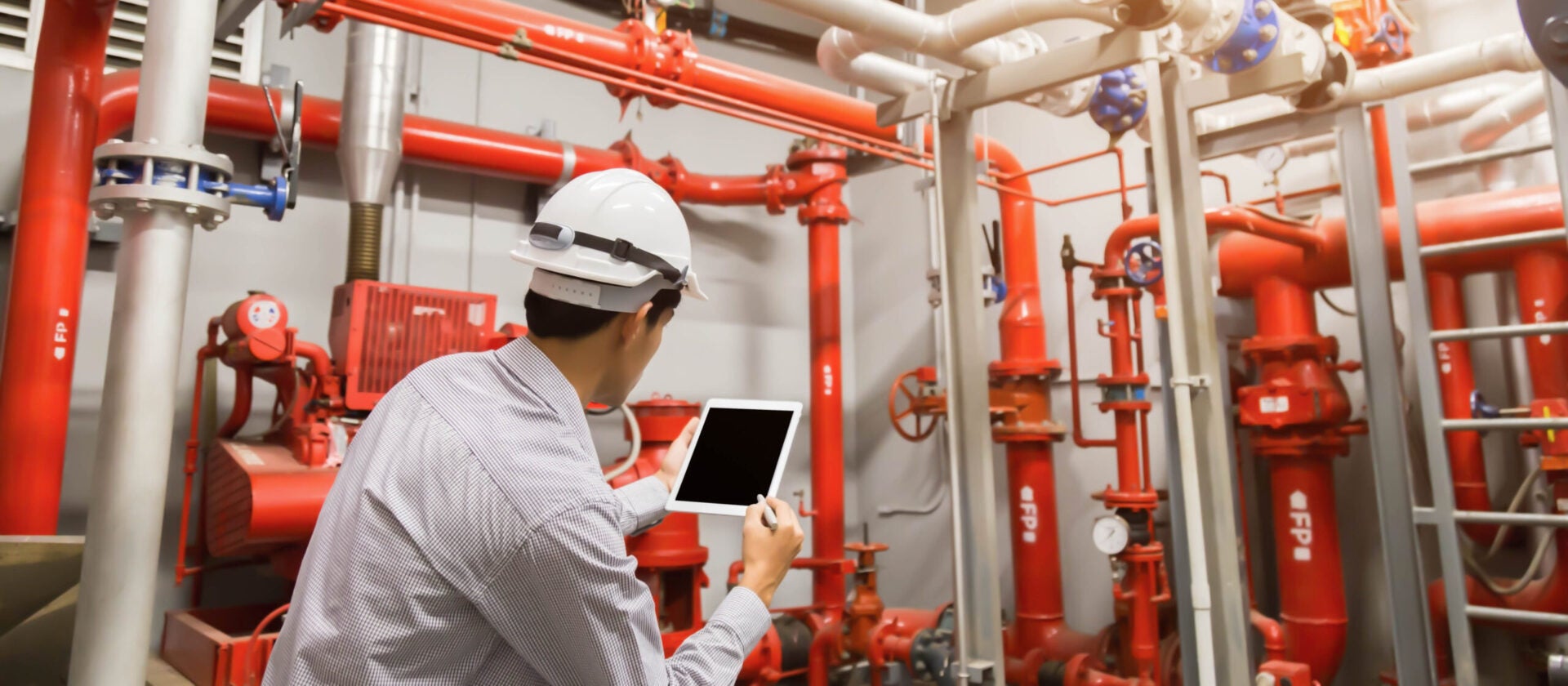 For many industries, even following the strictest safety procedures cannot completely mitigate the risk of fire. At mining sites, offshore platforms, and construction facilities, the combination of dangerous chemicals, combustible cases, high temperatures, and heavy machinery means that precautions need to be in place to keep workers and the facility as safe as possible.
What is a fire suppression system?
A fire suppression system is a broad term that covers a wide range of methods for extinguishing, controlling, or preventing fires from spreading or occurring.
Most people will be familiar with a water sprinkler systems, but there are many circumstances in which water is inaccessible or is unsuitable for the environment (such as at facilities with live electrical equipment). In these instances, many industries will rely on a dry chemical suppression solution.
How does dry chemical fire suppression work?
These systems work by storing dry chemicals such as sodium bicarbonate or mono-ammonium phosphate in a pressurized tank or container. When the system is activated, a valve on the pressurized tank opens, releasing the dry powder into a piping system and out through the nozzles.
Dry chemical fire suppression systems are very effective at smothering fires, do not pose the same threat to electrical equipment as water alternatives, and can easily be reused once they are recharged.
Where to buy dry chemical powder fire suppression systems
Honeywell Industrial Fire, part of Honeywell International, has extensive expertise in oil & gas, chemicals and energy industries. Its fire suppression and extinguishment solutions include sprinkler, deluge and water curtain systems, foams, and dry chemical powders.
Honeywell's Clean Agent Fire Suppression Systems consist of the chemical agent, as well as the storage containers, release valves, delivery piping and dispersion nozzles. Depending on the fire class risk, Honeywell offers different product categories that comprise different chemical agents (such as HFC-227ea, which offers zero Ozone Depleting Potential, or FK-5-1-12, which is ideal for water-averse sites) and different levels of pressure (24 or 42 Bar).
Carroll Technologies provides an extensive range of Honeywell products, working closely with customers to recommend the best solutions for any given application. For more information about Honeywell fire safety products provided through Carroll Technologies, or to find out what solutions are best suited for your facility, call Carroll on 606-573-1000 or send an enquiry here.